Our many convenient payment options
You can make your payments by dropping into any of our stores. You also may pay by cheque via mail care of:
Peterborough Automotive
Box 2484
Peterborough, ON K9J 7Y8
During postal disruptions please choose one of our other options to ensure your payment arrives on time.
Customers who have parts delivered to them can call their Sales Rep or local store for us to pick up your cheque.
We also accept direct deposit, email, and e-transfer payment. This is a very convenient option for all customers. Contact Tammy or Kirk at 705-742-8012 for our banking information for electronic payments and more payment details.
If you pay electronically please send a detailed confirmation email including the invoices you are paying to payments@ptboauto.com with each payment to make sure your payment is applied properly. Customers can also use the payments@ptboauto.com address to send email payments & e-transfer payments.
You may also call directly to 705-742-8012 to make a credit card payment.
Payments currently can also be made online via the RBC bill payment service.
We now accept credit card payments through our website (below) at your convenience 24 hours a day.
Make a secure online payment to Peterborough Automotive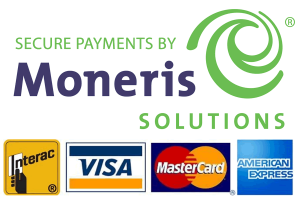 We accept Interac, VISA, MasterCard, and AMEX. The minimum payment allowed is $10.
Use the form below to begin the process of making a secure online payment using your credit card or Interac. Our payment portal is open 7 days a week, 24 hours a day. Please note customers paying by credit card are not eligible for a 2% prompt payment discount.
We do not collect or store any of your financial information on our website. You will be redirected to our secure payment page at Moneris, Canada's largest processor of online payments, to enter your financial information.
Instructions
After you provide your name, email, account number, and payment amount in the form below, we will redirect you to our Moneris secure payment page where you'll be asked to choose your payment method: credit card or Interac.
If you choose to pay by credit card, Moneris will ask you to enter your cardholder details and payment details. To avoid having your transaction declined, please provide the cardholder address in the fields indicated exactly as it appears on your credit card statement.
If you choose to pay by Interac, you will be redirected to the Interac website to choose your bank.
After you have made your payment, you will be provided with a receipt.
Make a payment by fax to Peterborough Automotive
If you prefer to make a credit card payment by fax, please download and print the Fax Credit Card Authorization Form, complete the form, and fax it to us at 705-742-7343.
Terms and conditions for online and fax payments
We accept VISA, MasterCard, and American Express for both online and fax payments.
Once you make your online or fax payment, Peterborough Automotive will be notified and will apply your payment to your account.
Payments will only be applied to your account between 8 am and 3 pm Monday through Friday. If you make a payment after 3 pm on a weekday, weekend, or holiday, it will not be processed until the next business day.
Online payments appear on your monthly statement according to the date they are applied at Peterborough Automotive, not the date they are processed through Moneris.
This privacy policy governs the manner in which Peterborough Automotive collects, uses, maintains and discloses information collected from users of www.ptboauto.ca.
Personal identification information
We may collect personal identification information from users when completing a form on our site, including your name, customer number, email address, and telephone number. We will collect personal identification information from users only if they voluntarily submit such information to us.
Non-personal identification information
We may collect non-personal identification information about users whenever they interact with our site, including IP address, browser name, operating system and other technical information.
Web browser cookies
Our site may use "cookies" to enhance user experience. Users may choose to set their web browser to refuse cookies, although this may mean some parts of the site may not function properly.
How we use collected information
We collect and use personal and non-personal identification information to process transactions, to respond to customer inquiries, to improve customer service, and to improve the website.
How we protect your information
We do not store personal and non-personal identification information on this site, and we do not sell or otherwise share personal or non-personal identification information with any third parties.
We do not collect or store credit card information on our site.
Third party websites
Users may find advertising or other content on our site that links to the sites and services of our partners, suppliers, and other third parties. We do not control the content or links that appear on these sites and are not responsible for the practices employed by websites linked to or from our site. In addition, these sites or services, including their content and links, may be constantly changing. These sites and services may have their own privacy policies and customer service policies. Browsing and interaction on any other website, including websites which have a link to our site, is subject to that website's own terms and policies.
Changes to this privacy policy
We retain the discretion to update this privacy policy at any time. When we do, we will revise the updated date at the bottom of this page. You acknowledge and agree that it is your responsibility to review this privacy policy periodically and become aware of modifications.
Your acceptance of this privacy policy
By using this site, you signify your acceptance of this privacy policy. If you do not agree to this policy, please do not use our site.
Contacting us
If you have any questions about this privacy policy, please contact us at:
Peterborough Automotive
Box 2484 898 Ford Street
Peterborough, Ontario K9J 7Y8
1-800-461-3656
info@ptboauto.com